An overview of what's on
Regular guided tours open to the public, held in German
Thursday tours, always beginning at 6 p.m.:
1st Thursday of each month (KölnTag – free admission for all Cologne residents): "Middle Ages for Beginners", tour conducted by the Museum Service
3rd Thursday of the month: "Highlights of the museum", tour conducted by the Museum Service
Every Sunday at 11 a.m.: "One hour Middle Ages", tour conducted by the Museum Service
Every Sunday and Wednesday at 2.30 p.m.: "Ways to Discover the Collection", themed tours conducted by work group volunteers
Every 2nd Friday of the month at 4 p.m.: "Bilderleben": psychological contemplation of pictures according to Dr Hans-Christian Heiling. A joint project of the Museum Service and the Psychology Department of the University of Cologne.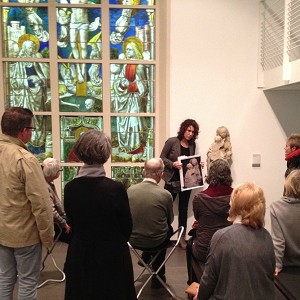 St. Cecilia concert series
The extraordinary atmosphere of the Romanesque church sets the mood for the enjoyment of spiritual music from various eras. The emphasis is on vocal music. In 2015 two concerts took place in St. Cecila in cooperation with ZAMUS Cologne as part of the Cologne Festival of Old Music.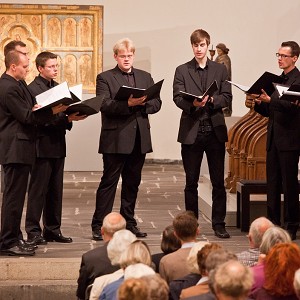 Art consultation hours
Artworks may be presented to staff of the Museum Schnütgen for identification/appraisal. This does not include an estimation of value. The appraisals are only possible by appointment.
Please send photos and information about your artwork as well as your contact details via email to museum-schnuetgen[at]stadt-koeln.de. We will contact you to make an appointment.