Ways to discover the collection
Stained glass
Through their radiance, church windows transformed light into the symbolic expression of God. At times blazingly bright, at times eerily gloomy, windows depicting biblical scenes or the figures of the saints made a strong impression on their observers.
Records such as those written in the 12th century by the monk Theophilus Presbyter provide information on how stained glass was made in the Middle Ages. Glass panes dyed with metal oxides were put together like a mosaic and connected with lead cames. Up until c. 1300, only black stain was available for the fine inner drawings, later colours such as silver stain and sanguine were applied to clear glass panes.
Over the course of the Gothic period, the windows greatly began to increase in size, and stained glass soon surpassed mural art in importance. In Cologne, stained glass experienced its heyday in the 13th and 14th centuries – one of the main projects being the windows of the cathedral.
In the 16th century, stained glass experienced a renaissance in Cologne and the Netherlands when Grisaille glass panels became popular for the decoration of private homes. An especially high-quality example of this is the allegorical glass depicting law and mercy.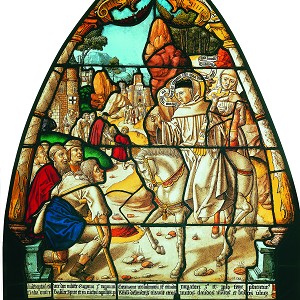 Scene from the Altenberg Cloister Cycle: St. Bernard Preaches in Germany on the Crusades and Heals the Sick
Cologne, c. 1520-1530