Accessibility
Due to its historic structure, the museum is unfortunately not fully accessible. We have therefore put some information together to help you plan your visit and hope that you will have a pleasant stay.
Directions and entrance area
The entrance to the museum is wheelchair accessible. The museum foyer, including the ticket desk, information desk and shop, can be accessed with a wheelchair through the main entrance from Cäcilienstraße. You can also take the elevator from the designated parking spaces in the Cäcilienstraße underground car park directly into the foyer.
The cloakroom and an accessible restroom are located on the underground level of the museum and can be reached via an elevator.
The special exhibition hall for temporary exhibitions is conveniently accessible from the foyer.
Seating is available in all exhibition areas. Chairs that can be folded and used as a walking aid or wheelchairs can be borrowed at the information desk.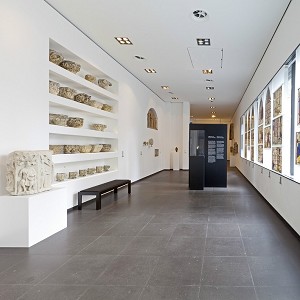 Exhibition rooms
A large part of the exhibition is located in the Romanesque Church of St. Cecilia, a historic monument. The Western church galleries, which overlook the nave and choir, can be reached via the new exhibition rooms.
The other parts of the church, with the exception of the crypt and sacristy, can be accessed by wheelchair from outside via a side portal from the garden of St. Cecilia. You must leave the building for this. Please ask one of our service employees, who will be happy to accompany you to the side entrance.
The parts of the collection on exhibit in the annexe, which was completed in 2010, and in the so-called Band-Bau (Band building), named after Cologne architect Karl Band, are fully wheelchair accessible. The only exception is a small gallery area in the stained glass exhibit.