Latest news
Alfred Tritschler. Mittelalter Fotografie
The accompanying volume for the special exhibition "Sculpture through the Lens of the Camera"
Alfred Tritschler, at that time one of the most sought after German photographer, took photographs of sculptures in the Museum Schnütgen in Cologne with the legendary Leica camera shortly after the Second World War. Even during the war-related outsourcing of the outstanding medieval collection, he created expressive portraits of selected figures and thus almost brought them to life. Many of these photographs have been published for the first time in this book published by Greven Verlag.
The catalogue accompanies the special exhibition "Sculpture through the Lens of the camera. Alfred Tritschler's photos of the Schnütgen collection" (9.11.2019-16.02.2019).
Iris Metje, Alfred Tritschler. Mittelalter Fotografie, Cologne 2019, 136 pages, 102 illustrations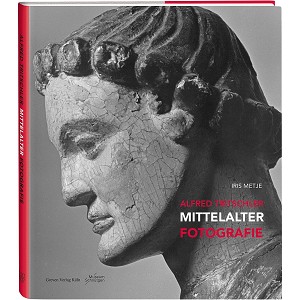 Special Exhibition
The Prophets have returned to the City Hall
Since Friday, July 12, 2019, the eight prophets are yet again standing on the north wall of the Hansa Hall in the historic city hall of Cologne. For conservation reasons, the originals – full-round medieval wooden figures - are exhibited in the Museum Schnütgen since 2012.
At the initiative of Lady Mayor Henriette Reker, replicas have now been made. These were manufactured by the Cologne Company Julius Fröbus GmbH by means of a 3D printing process. According to the latest standards, photographs of the originals were digitally converted into 3D models. The coloured surfaces of the newly made figures were designed by artists to resemble the present appearance of the originals.
Henriette Reker welcomed the "new" prophets together with Dr Moritz Woelk, director of the Museum Schnütgen, to the town hall. With the slogans on their banners, the prophets once again fulfil their function as representatives of moral guidelines for "good governance".
The new Survey of the Collection
It is finally here: The new survey of the collection of the Museum Schnütgen offers a compact, chronological overview of the internationally famous, high-quality and multi-faceted collection of the museum. The volume presents 280 works from the various sections of the collection in an attractive manner and with the latest research findings.
Museum Schnütgen – A Survey of the Collection. Ed. by Moritz Woelk and Manuela Beer, Munich 2018, 472 pages, 443 ill. in colour